How to Block Telenor Sim If Lost or Stolen? 4 Ways
When a SIM card gets missing, it is crucial to block your SIM card as soon as possible to prevent unauthorized use. If your Telenor Sim has been lost or stolen and you are confused about what to do next. Look no further and learn how to block Telenor Sim through this detailed guide.
Telenor is a telecommunications company based in Pakistan, recognized for providing mobile and fixed-line calling services, as well as internet and television services in multiple countries. It has established itself as a leader in the telecommunications industry and connects millions of people around the world.
After reading this article, you will be able to block your lost or stolen SIM card. In this comprehensive guide, we will tell you all the methods of blocking your Telenor SIM card to ensure your security and privacy.
How to Block Telenor SIM Online?
Here are all the possible methods to block your Telenor SIM card easily. You can block your Telenor SIM card at home through customer care support, the Telenor app, and the Telenor website. You can't also visit your nearest Frenchies.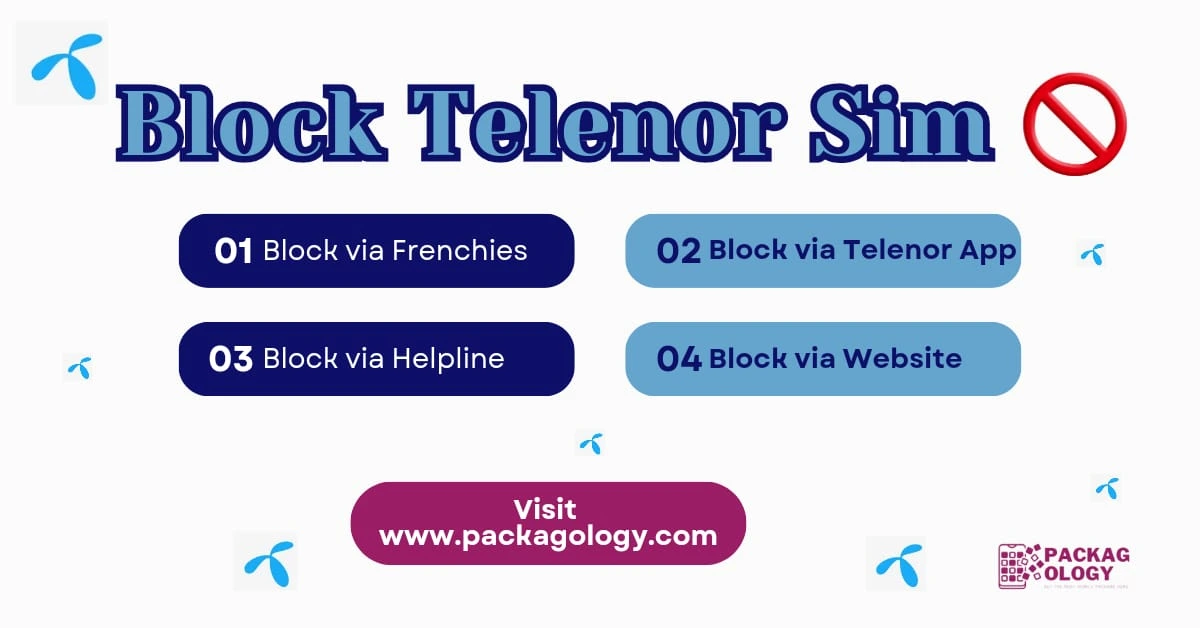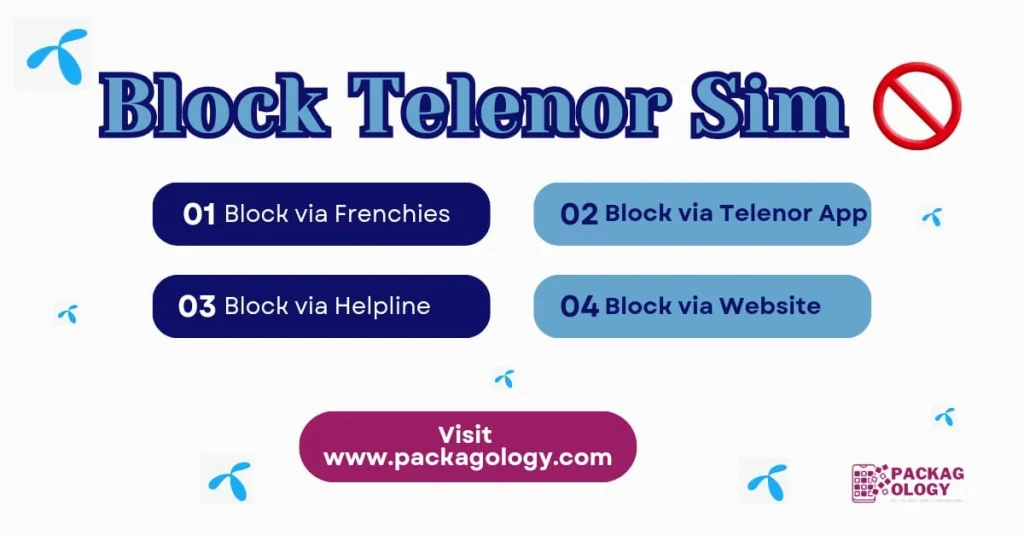 Before proceeding, read this article carefully and follow the steps that are suitable for you.
Method 1 – Visit Your Nearest Telenor Franchise
Sometimes people prefer face-to-face interaction because you can visit the nearest Telenor franchise to block your SIM. Inform them you want to block your SIM card, and they will guide you. You just follow their instructions and once the process is completed, your Telenor Sim will be blocked.
Method 2 – Dial Telenor Helpline
You can also block your SIM by dialing *345# if you are unable to visit Frenchies. To proceed you have to follow all these steps:
Call the helpline.
Provide your Telenor number and any other requested information.
Register your case by verifying your identity if needed.
Ask for the blocking of your SIM.
After successful verification, your SIM will be blocked.
Method 3 – Block Telenor SIM via Telenor App
Blocking through the Telenor app is another method comprised of these steps:
Download the Telenor Pakistan app from the App Store or Google Play
Log in to your account
Go to the "Services" tab
Select "Block SIM"
Fill in the required information including your SIM number, your personal number, and the reason for blocking
Submit the request
Wait for the confirmation message from Telenor on your alternate number. After some time your SIM will be blocked.
Method 4 – Block Ufone SIM through the Telenor Website
Method 4 of this article is to block your SIM online. You just follow all these steps:
Go to the Telenor Pakistan website (www.telenor.com.pk)
Click on "Support" 
Select "Lost SIM"
Fill in the required information, including the SIM number, your personal number, and the reason for blocking
Submit the form and wait for confirmation that your SIM has been blocked.
Telenor will send you a confirmation message on your alternate number once the SIM is blocked
Reasons Why You Should Immediately Block Your Lost or Stolen Ufone Sim
It is very important to understand the actual reason for blocking your SIM card before proceeding. Here are some common cases:
If you have lost your SIM card or stolen it.
If you are mistrustful that your SIM card is being used without your consent.
Maybe you want to switch to a new SIM card.
If you want to switch to another mobile service provider.
Terms & Conditions For Telenor Sim Deactivation
Only prepaid users can block SIM
This service is free and charges Rs 0/-
You just need your CNIC number
The number can be blocked temporarily
Or you can block the number for permanent
For more details, click here for the official site
Final Say on How to Block Telenor Sim
If you are worried about your lost or stolen Telenor SIM, this article will be very helpful. Because each method mentioned above is reliable and very easy to do.
You just select one method that is more convenient to you and follow all the steps of this process. After completing the process you will receive a confirmation message and your Telenor Sim will be blocked.
If you have more queries related to any telecommunication network, you can comment below.
How to Block Telenor Sim FAQs