How to Block Ufone Sim If Lost or Stolen? 4 Ways
Learn how to block Ufone sim if lost or stolen / ufone sim block karne ka tarika online in this article! It is really important to immediately block any telecommunication sim to avoid any unfortunate incidents.
Basically, SIM stands for 'Subscriber Identity Module'. According to this abbreviation, sim is totally related to a person's identity. So losing or having your SIM card stolen can pose a risk of identity theft as SIM cards often contain contact details, and text messages and are linked to various online accounts.
Please note that the network, Ufone, established in 2001, is a well-known mobile network that has grown to become one of the country's leading cellular service providers. Ufone not only provides the best call, SMS, or internet bundles but also brings various ways to block stolen or lost SIM cards for its prepaid and postpaid customers.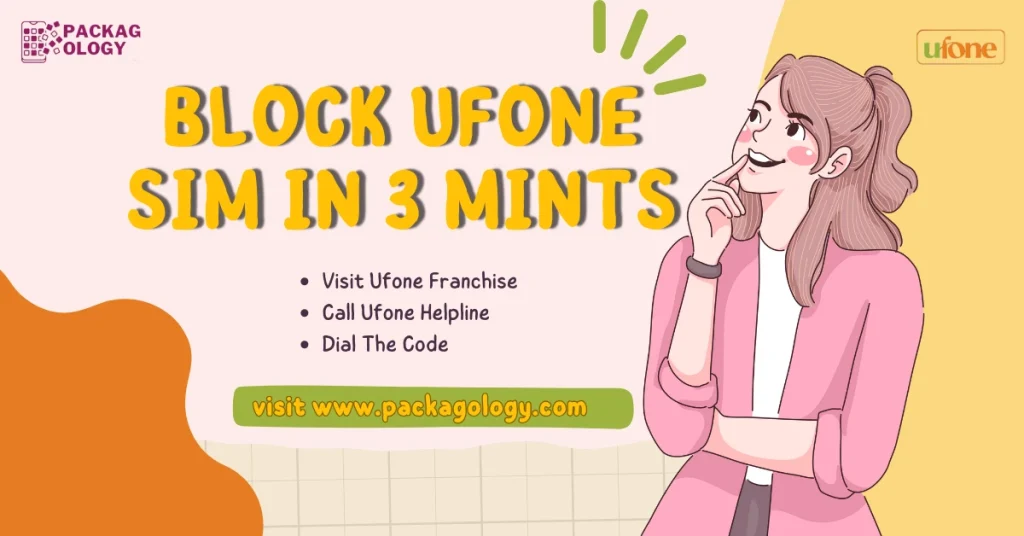 If you have lost your sim card and worried about your identity details, and want to get rid of this situation. You are on the right page because in this article we have provided all the methods related to blocking your SIM card.
Method 1: Visit Ufone Franchize to Block Ufone Sim
If you have lost your SIM card Ufone franchise facilitates you. You just visit a Ufone franchise. They issued a new one with the same phone number by deactivating the lost SIM card. In case you want only to block your SIM card they also assist you.
Method 2: Call Ufone Helpline to Block Ufone Sim
If you want any method without getting the hassle of visiting your nearest Ufone Franchise, then this method is definitely for you.
Connecting with the Ufone customer care department by dialing 333 is another opportunity for you to block your stolen SIM card. They ask you about some basic details of sim registration. They will guide you through all the processes through which you can block your Ufone SIM card.
Related Posts:
How to Block Ufone Sim Online?
Besides above mentioned easiest and hassle-free methods, you can also block your Ufone sim online through the official website of Ufone.
Method 1 – Block Ufone Sim Through Ufone Official Website
Visit the Ufone network online website and follow the below-mentioned steps;
Visit the Ufone website – The very first step to blocking your Ufone stolen or lost sim is to visit the official Ufone website at www.ufone.com.
Whatsapp Self-Service- Once you're on the website, go to the main menu and click on 'Support.' There you will get another drop-down method, then click on Ufone Whatsapp Sel Service.
Select "Block SIM" – once you click on that you will be directed to their customer support service. Mention your problem or the reason why you want to block Ufone sim and they will proceed to your request. Once you've submitted your request to block your SIM card, it will be blocked within 24 hours.
Method 2 – Block Ufone Sim Through My Ufone App
In addition to all the above-mentioned methods, Ufone also provides free account registration on the 'My Ufone' application. You can also block your Ufone number through this application within just 5 minutes.
Follow these steps to close your Ufone SIM;
Open the Play Store app and download the app on your smartphone.
Create your account if you have not registered earlier, otherwise, login to your account.
After getting logged in, click on three lines, present at the left top corner.
Now open the Manage Account setting.
Here you will get two options restore or block. Click on Block Number.
Insert your number, verify number ownership, and then, click on the submit button.
After a few hours, your Ufone prepaid number will be blocked automatically by network officials.
Final Take on How to Block Ufone Sim
It is really important to block your sim cards that are not in use, stolen, or lost. Otherwise, it may cause you any trouble. To avoid any bad experience, you can easily block your Ufone sim card through the three easiest methods mentioned in this article.
Also, if you need more information about any specific topic or mobile network, don't forget to mention it in the comment section.
How to Block Ufone Sim FAQs