Watch Live PSL Match on Jazz: Ad-Free WorldCup Match 2023 Streaming
Pakistan Super League (PSL) is back with its 8th edition, and we are thrilled to see spell-bounding performances. Notably, cricket lovers are all excited to watch live PSL match and see tough competition among the six skillful teams led by exceptional captains. 
The watch will be broadcasted on several major TV channels. However, people who cannot take the facility of watching matches on TV are finding other ways to get free PSL streaming. Thanks to Jazz Mobilink, which has launched two apps where anyone can watch the live streaming of PSL 2023.  
How?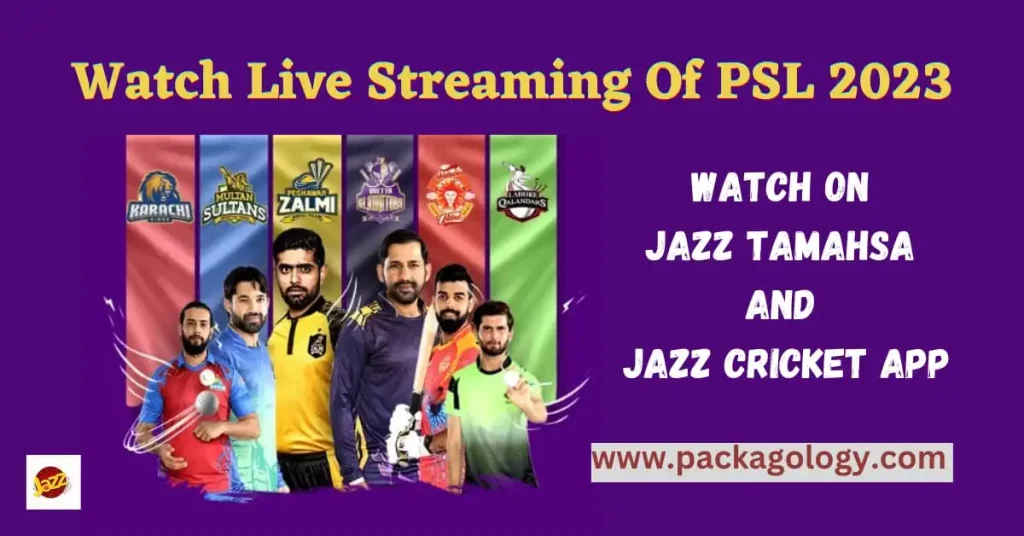 This article provides detailed information on how to Watch Live PSL Match of PSL 2023, get updated with the latest score, read the expert's view on the matches, and much more. So, the article is undoubtedly a godsend if you are a cricket lover.
Watch Live PSL Match Online Free On Jazz | World Cup Match live Streaming
Yes, you heard it right. Jazz, the number network in Pakistan, has won the hearts of its customers once again. The network provides free live streaming of all matches of PSL 2023 for its jazz users. Please note that the service does not cost any charges, so if you find your balance low, you may have subscribed any other package.
Also Read: How to Unsubscibe Jazz Package without charges?
Here are the two ways to watch PSL live streaming online free on Jazz.
Watch Live PSL Match on Jazz Tamasha App
Jazz Tamasha app is one of the best PSL live streaming apps where you can watch all live matches of the eighth edition of Pakistan Super League (HBL PSL-2023) without disruption. Importantly, Jazz's Chief Digital Officer, Aamer Ejaz, said, 
"Tamasha has brought conventionally consumed TV content to the mobile handset and made it accessible to everyone. With this engagement, Tamasha brings cricket fans digitally closer to the game by embedding PSL-8 in their lifestyle through online streaming."
It is noteworthy that Jazz Tamasha Application has emerged as the most extensive homegrown OTT video streaming and entertainment platform in a short span of its launch. Moreover, all android and IOS users can download the application from Google Play Store or Apple App Store as well as on Tamasha's website. 
Above all, the application provides ad-free live streaming of the matches, which is an added bonus. In addition, the application brings many other amazing opportunities for cricket fanatics, such as Jazz Fan Pulse quiz and answering questions during the live stream to win exciting prizes.
Watch Live PSL Match on Jazz Cricket Application 
The jazz cricket application is another gift from the Jazz network for cricket lovers. The application was launched a couple of years back to serve the cricket craze of Pakistanis. And the application is surely a goldmine for cricket lovers. 
It offers everything from live streaming of all cricket matches to the latest cricket news, critiques viewpoints, the latest happening in the Pakistan Cricket Board, and much more. The application is, surely, a one-stop shop for cricket lovers. And now, the applications provide Jazz free PSL streaming, PSL schedule, PSL live score, latest news, PSL squad analysis, and everything you can expect related to PSL. 
So, download the app now, and enjoy Jazz free PSL streaming live. You can download the application on all android and IOS phones.
These two are thee best cricket live streaming apps through which you can watch cricket on mobile PSL 2023.
Final Take on Watch Live PSL Match 2023 | Watch World Cup Match 2023 live
To conclude, anyone can watch live PSL matches on jazz applications, e.g., Jazz Tamasha and Jazz cricket. The service is entirely free of cost. You just need to have a stable internet connection, and you are good to watch live streaming of PSL matches. 
Also Check:
Frequnetly Asked Questions